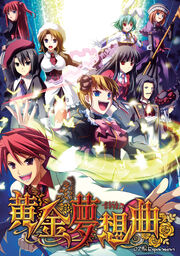 Ōgon Musōkyoku (黄金夢想曲?, lit. "Golden Fantasia"), is a fighting game developed and published by 07th Expansion. It is considered a side spin-off of the Umineko no Naku Koro ni murder visual novel series. It was released on December 31st, 2010 for 3,000 yen (approx. $35) at C79 for the PC.
The game was ported to the Xbox 360 by Alchemist under the X subtitle.
An official translation by MangaGamer will be released on December 8th, 2017, including the CROSS expansion, for $24.99. You can view the steam page for the release by clicking here .
An expansion for PC was released on December 31st, 2011, titled Ōgon Musōkyoku CROSS
Characters
Playable Characters
360 version:
CROSS expansion:
Spring 2012 patch:
Sub-Characters
Related Media
Main article: Ougon Musou Kyoku (manga)
A manga adaptation of the game illustrated by Junka Morozumi began serialization in the December 2011 issue of Kadokawa Shoten's Comp Ace magazine.
Trivia
External Links