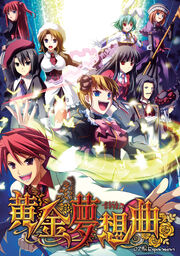 Golden Fantasia (黄金夢想曲, Ougon Musou Kyoku?), is a fighting game developed and published by 07th Expansion. It is considered a side spin-off of the Umineko no Naku Koro ni murder visual novel series. It was released on December 31st, 2010 for 3,000 yen (approx. $35) at C79 for the PC.
The game was ported to the Xbox 360 by Alchemist under the X subtitle.
An expansion for PC was released on December 31st, 2011, titled Ōgon Musōkyoku CROSS
An official translation by MangaGamer will be released on December 8th, 2017, including the CROSS expansion, for $24.99. You can view the steam page for the release by clicking here .
Characters
Edit
Playable Characters
Edit
360 version:
Edit
CROSS expansion:Edit
Spring 2012 patch:
Edit
Sub-Characters
Edit
Related Media
Edit
Main article: Ougon Musou Kyoku (manga)
A manga adaptation of the game illustrated by Junka Morozumi began serialization in the December 2011 issue of Kadokawa Shoten's Comp Ace magazine.
External Links
Edit
Community content is available under
CC-BY-SA
unless otherwise noted.